Laminate Countertop Care & Maintenance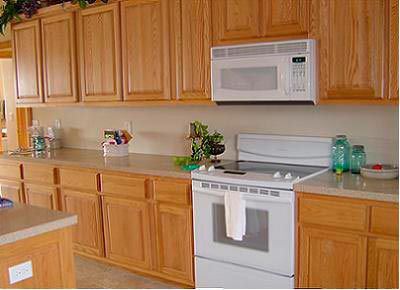 Daily Cleaning
To properly clean your laminate kitchen countertops, use warm soapy water. Be sure to dry them, as standing water may eventually soak in and cause damage. Do not use abrasive cleansers such as Soft Scrub, Scotch Bright pads or steel wool. This can damage the laminate finish. Do not allow water, wet rags, plants or coffee makers to sit on or near deck seams or front edges of your laminate countertop. This can cause the seam to bubble and swell. Because this problem is caused by moisture, it is not covered under the warranty.
Re-Sealing
At some point after your laminate countertops have been installed, you may notice that a gap may have formed between the counter and the wall. This is common in new construction and remodeled homes. Walls can expand and contract from season to season due to humidity. Since the laminate kitchen countertops are attached to the base cabinets, they do not move, but you can re-seal them using "DAP" which can be found at any hardware store.
For more tips about caring for your laminate countertops, feel free to contact APL Fabricators and Stone at 651-438-2223 or stop by our showroom in Hastings, MN.